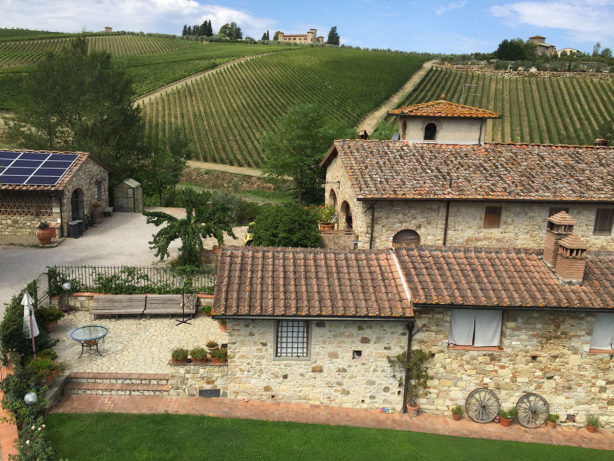 Il Vichiaccio is the Country House in Chianti ideal for visiting Florence, Tuscany and its cities of art.



If you are looking for a holidays home in Florence, just minutes from the city and away from the chaos, where to stay with your family or with a group of friends, Vichiaccio is the ideal solution for your needs. Immersed in the green vineyards of Chianti, halfway between Florence and Siena, Il Vichiaccio is an excellent base from which you can easily reach the main art cities of Tuscany such as Siena, Pisa, Lucca, the Tyrrhenian coast and the villages of Chianti, where you can taste excellent delicacies such as the famous Florentine steak and sip a glass of red wine. At Il Vichiaccio we offer hospitality to families and groups both small and numerous. We have independent rooms and villas, all with a heated jacuzzi and an exclusive garden.
What you will find to welcome you at the Vichiaccio

Before being owners of Il Vichiaccio, we are above all passionate travelers. We have visited many countries by train, by car, by plane, by motorcycle. We know how important it is to find a hospitable, welcoming and able to satisfy our needs, tastes and expectations.
Unfortunately we also know well the sense of frustration in seeing one's own desired and long-awaited vacation turning into something disappointing or even unpleasant.
For this reason, in order not to disappoint your expectations or to make you find no surprises upon your arrival, it is very important for us to clarify what we can and what we cannot offer our customers.

First of all: WE ARE NOT A HOTEL.
We are a family that offers hospitality in their own home!

You will find people who are lovers of nature, eager to share their holiday sensations with their guests but also to discuss, with curiosity and interest, mutual uses and customs, political and cultural visions, in the belief that confrontation with other cultures is a great one opportunity for personal growth.
You will find two people usually engaged in other activities, so not always present at home, but always eager to open the doors of your home to share a good glass of wine with friends or to give you some useful advice on wine to buy or places to visit .
You will find restored environments with the care and love that they dedicate to a real life project, respecting Tuscan traditions and culture.
You will find well-kept outdoor spaces, with many typical local flowers but not obsessively maintained as if they were a botanical garden.
You will find the peace and tranquility of a tiny hamlet nestled in the vineyards, away from traffic and surrounded by forests rich in wildlife.
You will find trekking and mountain bike trails and, on the way back, you will enjoy the pleasure of a swim in our Jacuzzi tubs heated up to 42 °
You will find a valid help for any needs or unforeseen events that may occur, from car repairs to restaurant reservations.

You will not find impeccable reception staff or uniformed service, always ready to respond to your wishes with formalism and subjection.
You will not find air-conditioned rooms with powerful air conditioning systems or impeccable English lawns, cared for like a golf course.
You will not find a catering service, breakfast in the room or the chauffeur (although we always offer a ride).

In short, if you are looking for a relais where you can arrive without any warning, spend a vacation without any human interaction other than that of service, spoiled by impeccable waiters and surrounded by perfect furnishings, aseptic and air-conditioned environments, Vichiaccio is not the right place for you.

If you think that traveling is above all an opportunity for knowledge.
If you prefer a good glass of chianti wine in company, if you appreciate an old and faded wooden piece of furniture, perhaps with some hidden spider web but also steeped in the history of its time, if you really want to discover our wonderful land, so rich in history, art and culture, by accepting our advice and suggestions and forgiving ourselves some small flaws, perhaps due to our inexperience, then you are in the right place.
Vichiaccio Wellness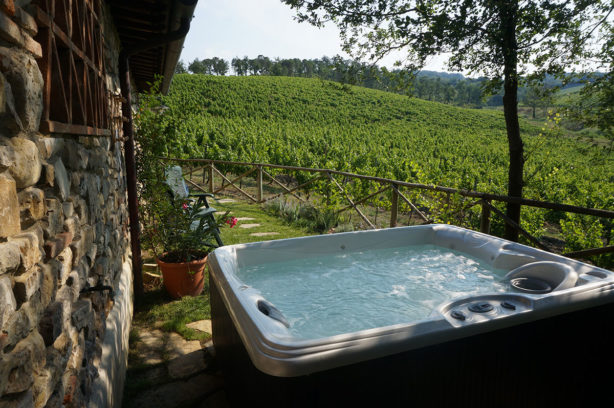 From the Country House Il Vichiaccio dozens of itineraries that wind through the surrounding vineyards and woods depart and you can travel on foot or by bicycle (we have two, mod. Cube in aluminum) at your disposal free of charge.
If you love the outdoors, the slow pace of the countryside, the flavors and smells of nature and you want to spend part of your holiday in search of psycho-physical well-being, perhaps lulled by the warmth of our heated Jacuzzis, ready to welcome you after a
walk in the Chianti countryside, you won't be disappointed.